"But game playing, like hypocrisy, is one of those things people only think they're against. In reality, we all do it. And our success in love and romance largely depends on how well we do it," –Dan Savage.

I only
PARTIALLY
agree with this statement.
I think that the games and the rules for dating seem to vary from person to person and that there is a large gap between being "coy" and being a "player."
I prefer coy.
And my own experience has taught me that the rules have changed with each person who has courted me.
I was taking stock of the last year or so of my single-life and I realized that all those times I thought I was playing the "game" perfectly turned out entirely wrong.
And when I looked at the encounters that turned into meaningful relationships, I realized that was when
the rules went out the window.
I don't like games ←
cliché

I know.
But I am done playing them.
No more "playing hard to get."
No more "playing that this is enough."
No more "check-mate" unless he matters.
Because dating is like a game of Twister… sure the colors are nice and there's "fun" to be had, but if the sport goes on too long everything gets convoluted.
And if everyone's hands are tangled and stationary, who can spin the tell-all arrow and determine what comes next?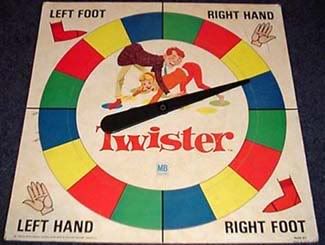 What games do YOU play or HATE to play?