"
Aaagggghhhhhh
CHOOOO
!!!!"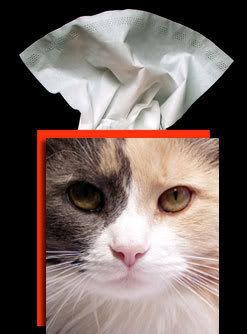 He's allergic to your cat.
Sure,
EVERY GUY SAYS
he's allergic to Mr. Fluffy, but is it really true???
Or is it excuse number 1,453,500,382 as to why he can't come over?
I mean sure, there's the whole
"job" thing
and the
"friends" thing
… and
gas IS very expensive
… and maybe he really
DOES
need to wash his hair,
again
.
But the whole, "I'm allergic to your cat," excuse seems to happen so suddenly.
His eyes might look REALLY red.
And all that sneezing will surely keep BOTH of you up at night.
But maybe,
just maybe,
that's why he'd rather you come to his place.
OR MAYBE
he uses the cat as a convenient excuse… a reason to make you work harder while he gets to sit back and enjoy your efforts in the quasi-relationship you find yourselves in.
Is he just not that into your
cat
…
or is he just not that into you???
Can a cat really make or break a relationship?
It's not like I own a boa constrictor…