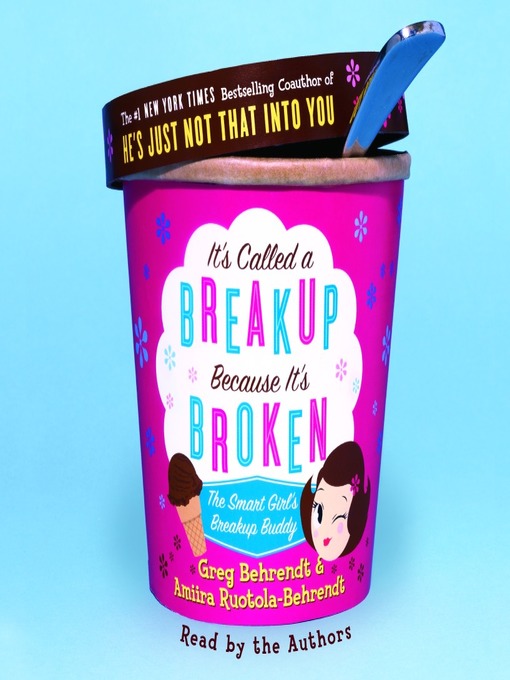 because

YOU'RE

broken.
Signs you've gone through a break up that

was not so easy:
1. Your coffee table is littered with self-help books to get you through those lonely nights. Unfortunately, these books will also
embarrass
you months later when you're "
so over him
," that your new guy picks up "
MEN WHO CAN'T LOVE
," and laughs.
2. Your hair, which is usually shiny and well groomed is suddenly a mess in need of a trim and highlights.
3.
...UNLESS
of course, you
want
to fall off the "sexy" radar for awhile and you get a new do that's
not exactly man-friendly.
(Goodbye flowing tresses, HELLO buzz cut!)!!!

4. Your friends make you mixed
CDS
of songs you love and stop by your apartment nightly with wine, ice cream and little gifts to bring you out of your doom.
5. You refresh your INBOX repeatedly waiting for the "I'm sorry, let's get back together email," and sleep with your phone in hand.
6. You seek out ANY distraction you can,
usually in the form of empty pint glasses.
7. Mr. Back-up is suddenly over with
girly
-movies in tow in the hopes of convincing you that "not all men are evil."
8. You've revamped your apartment, forgetting the
feng
shui
you used to find so important and instead using this as your guideline to decorating: "REMOVE EVERYTHING THAT REMINDS YOU OF THE EX,
EVEN THE MICROWAVE IF NECESSARY."
9. You've either gained
or lost
15 lbs
. If you've gained, people ignore it. If you've lost, people tell you that you "Look great! Getting rid of HIM was the best thing that ever happened to you." (You however, know that shedding those 15 lbs is evidence of a broken heart, NOT a new found lease on life
and your treadmill
).
10. You realize that you and Britney Spears finally have something in common,
"SHEAR"
INSANITY.
But what I wonder is this, what do

MEN

do after they breakup with someone? I just can't picture Mr. Masculine cuddling up with his kitten and a pint of Ben and Jerry's.